Jon of
Mississippi Garden
recently blogged about 'Party Time' alternanthera, a new cultivar.
My favs are old cultivars: the red I've had for years, cuttings from Miss Billie; and Chartreuse, purchased last year.
The red makes a delightful border with salvia coccinea and lantana.
Cuttings in water in the greenhouse make little nosegays, chartreuse in a mug and red in a galvanized container: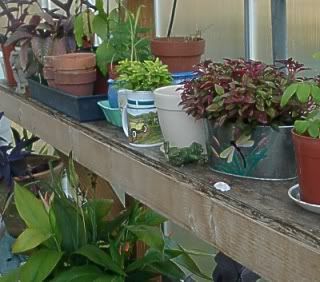 Note the pot of chartreuse at bottom right.
Despite the recent bitter cold that blackened the plants in open locations, some alternanthera persists in sheltered beds. That in well-drained spots usually returns, come spring.