I found this meme this evening, every Monday a post with Yellow, one of my fav colors. I just happened to have these fresh pics of 'Dazzle' LA lily and Black Eyed Susans in the garden.
Other flowers in this picture include lantana, nicotiana, setcreasea, and blooming in the background, a Gardenia Hedge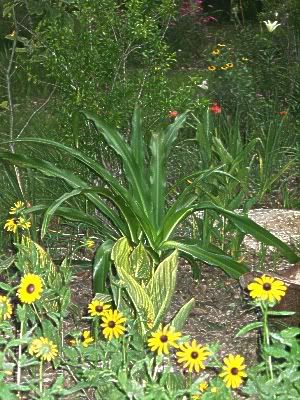 Not yet in bloom with the Dazzle lily are Purple Daturas.
The last photo has Bengal Tiger cannas and crinums behind the rudbeckia.
Late note: The Mellow Yellow Blog is on hold indefinitely, so I took the link off. Pity, I found it just in time to say goodbye.