When summer comes, all the plants leave the greenhouse so they won't cook in the sun. I open the doors and take off some of the rear panels so the wind can blow through in hurricane season and the cat takes it as his summer sleeping spot at night. His food dish is in there as well and he returns to it after sundown when things cool off.
I have a list of all the plants that I'm to take cuttings in late summer and the tropicals that will winter in there including my new Red Emerald Philodendron, small Areca Palms and White Anthurium. It will not be warm enough for tender tropicals like orchids, just borderline houseplant-type tropicals and tropical cuttings from things like pentas and porterweed that sometimes fail to return here.
Photos from previous years:
The part I look forward to is a snug place out of the rain and wind, like a child's playhouse. Furnished with a folding chair or two and a folding bamboo table, it can be a place to read or have lunch. I enjoy simple decorations among the plants, mostly seashells and stones.
Ike's Drinking Fountain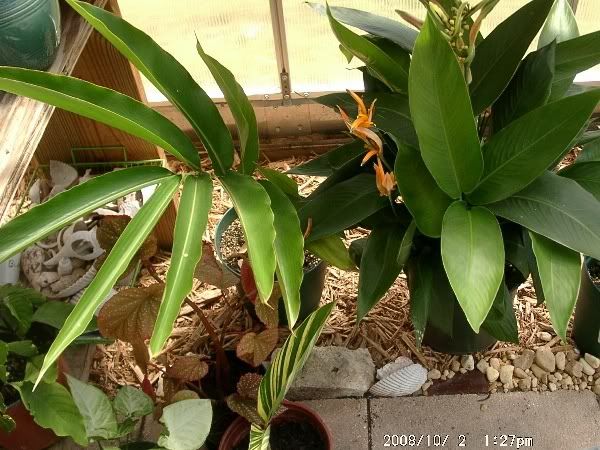 Seashells, Gingers and Heliconia
Tonight is the night for the Epiphyllum to bloom. Buds look like the one in the pic above. I'll have a post of Night Blooming Cactus blossoms tomorrow.