While I ate lunch yesterday, I thumbed through an expensive garden catalog featuring many bulbs and potted plants available for Christmas giving. I thought of the bulbs I've forced in the past, the rosemary cuttings I've rooted that could be turned into topiaries and other marvelous Holiday pretties that are possible with just a little planning.
Hyacinths are usually seen at Valentine's for gifts, but I like to force them for Christmas giving: a single hyacinth in a coffee mug full of stones, or 3 in a cache pot of some kind. They come in white, palest yellow, different shades of pink, red, magenta, blue and purple.
Blue are my favs. No, pink. No, lavender. Fortunately, in the ground they bloom at different times, so I have a fav on and on. They smell so divine and early butterflies love them.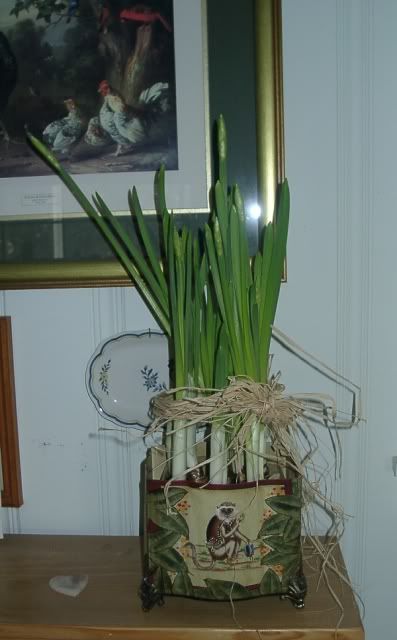 A single paperwhite narcissus can be placed in a small container, or a half dozen or more for a bigger show.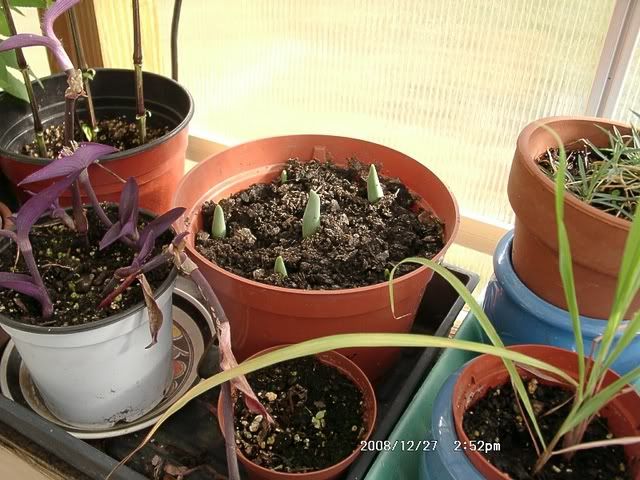 Last winter's tulips were a fiasco. The new puppy found them tasty, even before a bud appeared.
Amaryllis come in white as well as red and pink. Eight weeks to blossom from a dry bulb of certain types, grown for Christmas forcing. I gave my neighbor a white amaryllis, forced, a couple of years ago. We each planted ours into the ground after Christmas. She claims not to be a gardener. Guess whose is faithfully blooming every year, while I keep watching for a bud. Please!
It's time to think of getting bulbs for fall planting, if you haven't already ordered off.