This is a response to Janie's question
Where Are You Planted?
I'm here at the Center of my Universe, State of Georgia, USA: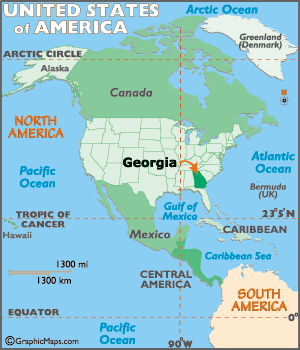 We are bordered by Alabama, Tennessee, South Carolina and Florida. I can visit Florida and Alabama in a day. It is a long way from here to Tennessee or South Carolina.
It is well-known in the the state that there are 2 Georgias: Atlanta and environs, where the money is, and South Georgia, where the water is. Politics figure heavily in the distribution of the wealth and water wars continue, as Atlanta wants to keep the Chattahoochee River behind Buford Dam north of the city. Downstream, we clean up Atlanta's uh, toilet water which eventually pours out through Lake Seminole into the Apalachicola River in Florida.
There are more than political differences. The northernmost part of the state has foothills and mountains of the Appalachians. The Piedmont region in the center of the state reaches the fall line, below which lies the Coastal Plain. The Georgia Native Plant made the most telling statement about the difference in plant life when they gave our area over to the Florida Plant Society because of the different plants that grow here in the warmer, sandy flatlands, zone 8b, than in Atlanta, 200 miles north.
We have rich, sandy, acid soil as differs from the red clay of north Georgia. We just add a spoonful of lime to plants like pentas and other lime lovers, and decide whether our hydrangeas will be naturally blue, or get a spoonful of lime and turn pink. We accept that we will not be growing tulips, lilacs and peonies, consoling ourselves with warm season plants like azaleas, crinums, amaryllis, gardenias and crape myrtles. In winter, we enjoy Camellias from November when C. sasanqua blooms, continuing through with C. japonica after Christmas until April when the heat takes out the last blooms. A hard freeze will take out open Camellia blossoms, but tight buds survive to open on the next warm day.
The state bird is the Brown Thrasher, the state flower is the Cherokee rose, the state tree is the Live Oak and the state Butterfly is the Tiger Swallowtail. Signs as you cross into the state read 'We're Glad Georgia's on Your Mind,' a message from our governor, Sonny Perdue.
Please join us in sharing Where You Are Planted and link back to Janie.