Planning for year-around blossoms -- well, almost -- and providing nectar for butterflies in the months where they are about can be a real challenge. I'm discussing it in December to facilitate planning for spring blooms.
Town Mouse
mentioned the importance of consistant amounts of nectar for butterflies and pollinators in a comment on my previous post about gardening for butterflies. That's one of the things that casual referrals to butterfly gardening fail to stress when lists of 'nectar plants' are given.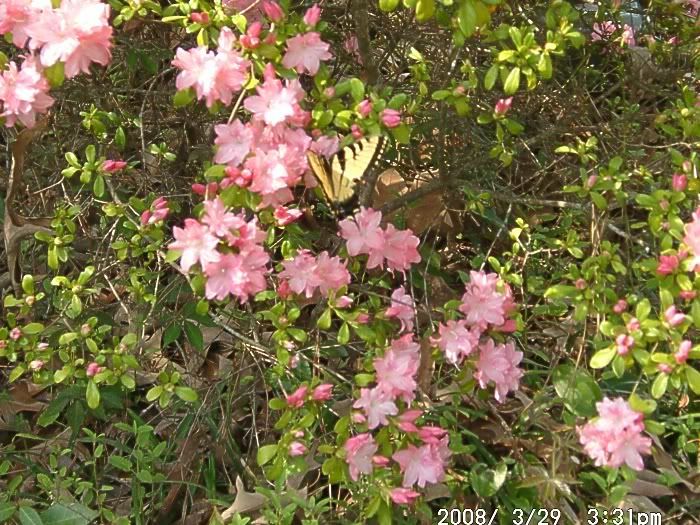 There used to be a gap in my garden after late March to mid-April when spring azaleas' bloom, and the grand opening of spring flowers in May. By Income Tax Day, azaleas had dried up and there was a dearth of blossoms to attract butterflies, who had to depend on whatever weeds were blooming in the field edges and meadows.
Here's how I learned to bridge the April to May gap to keep butterflies visiting the garden:
Sweet William dianthus and Cheddar pinks
Gaillardia
Tangerine bulbine
When Toadflax and Venus's Looking Glass come up in my beds, I leave them. They're the weeds the butterflies seek out in the meadow. Both a lovely blue, why not in my garden?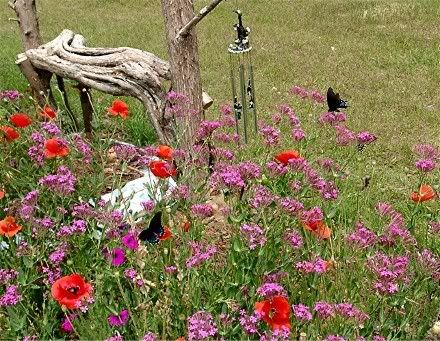 Soon after the above, will come Silene (catchfly) which I seed about liberally in November and December,
and Verbena bonariensis which seeds itself about.
Silene and Poppies
Verbena on a Stick and Sweet William. I have not noticed butterflies visiting California poppies.
By May, more tropical plants can be safely planted out and seeded summer annuals are coming on.
Marigolds and Agastache
Butterfly nectar gardening depends heavily on observation of when butterflies appear and on what they prefer to nectar. The schedule that I use must be adapted in cooler climates. Our last expected frost date is April 15.