A partial list of some books in my garden that I've had for many years, or picked up in a Library sale somewhere. I didn't list the ancient textbooks, nor many of the late 20th century garden books on my shelves. I've given away some of my books once I decided that I would focus on regional books better suited to southern gardening. There are others that I wish I had bought before they went out of print.
Herb Gardening in Five Seasons
Adelma Grenier Simmons
Hawthorn Books (1964), Hardcover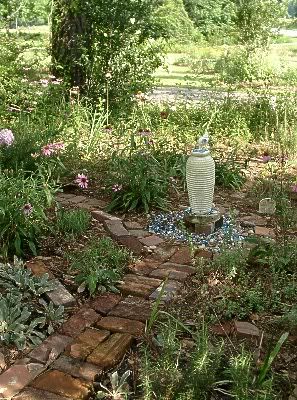 The Fragrant Year; scented plants for your garden and your house
Helen Van Pelt Wilson
illustrated by Leonie Bell
New York, M. Barrows; distributed by W. Morrow, 1967.
A bit outdated on information on Roses, but much of the text is still appropriate. Forcing bulbs has not changed. There is a very good section on dianthus. I'm always looking for something different for the fragrance garden.
There's a nice section on Aromatic Herbal Scents.
A glimpse of my herb garden.


Crockett's Victory Garden

James Underwood Crockett

Boston : Little, Brown, c1977

Alys Clancy's Garden Guide
Alys Clancy
News-Journal Corp. Daytona Beach, FL 1977
I love Alys's guide to gardening in the sands of North Florida, which generally applies to my garden as well. Some of her advice is spotty, but there are gems of useful information, originally written as daily columns in the News-Journal.
National Audubon Society Field Guide to North American Trees
: Eastern Region (Eastern)
Elbert Luther Little
Knopf (1980), Turtleback
All About Azaleas, Camellias & Rhododendrons
(Ortho Library)
Ortho Books
Ortho Books (1985), Paperback
This book lists the tried and true cultivars. Azaleas listed that are among my favs are 'George Lindley Tabor,' 'Pink Pearl' and
R. yedoense
var.
poukhanense.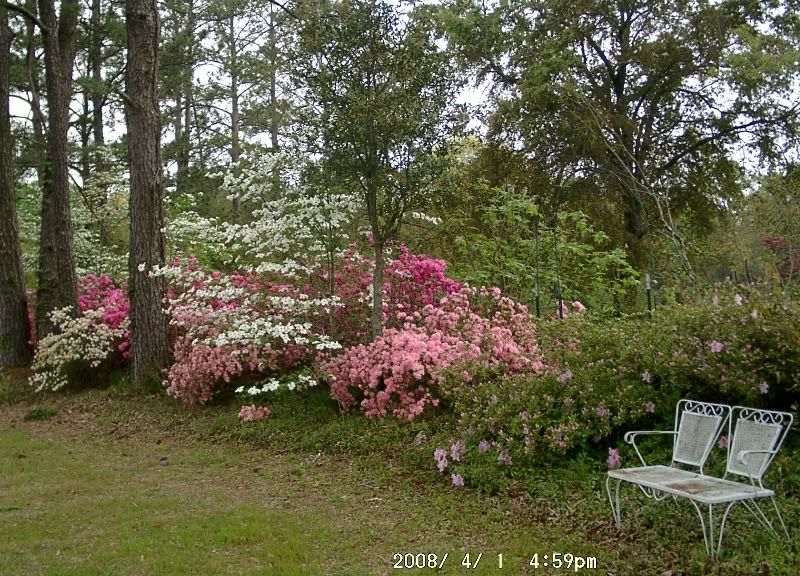 Dogwoods in Bloom with azaleas Pink Ruffles, Pink Pearl and George Tabor in the Spring of 2008.
Southern Gardens, Southern Gardening
William Lanier Hunt
Duke University Press, 1982
Fun to read a book that mentions under new plants: white Loropetalum without a mention of the fuchsia blooms so popular today. The white has just now become a 'new' fav in the trade, after Michael Dirr dismissed it in his book.
Bold Romantic Gardens : the New World landscapes of Oehme and van Sweden
Wolfgang Oehme
Reston, Va.: Acropolis, c1990
When I bought this book, back when it was newly published, I thought it the most wonderful book I'd seen. They were just slightly ahead of the big push toward grasses and broad plantings of natives. This isn't a truly old book, but it merits mention here because of being ahead of the trend.
The picture at right is an old family photo c. 1920 from Tanky's album and is one of my favorites. In the right background is the old smokehouse, the house is not visible behind the trees. We're not sure which of the girls are pictured, nor the name of the dog. The tree at right is an elm, one of several that died of Elm disease in the 1950's. in my more recent memory, there was a hedge along the top of the rock wall that ran along the west and south edges of the yard.
What old books are treasures in your Library? How have they impacted your Garden?