Diana asked for a closer view of the herb garden's mid-feature, which I call the 'faux fountain.' After a search I located more views of the herb garden from its earlier days. Some things are best viewed through vaseline glass, but here you are, we're among friends.
Updating, the culinary sage has died out and needs more grown from seed.
Thyme remains and Oregano, not shown, is good.
Parsley was relocated away from the birdbath for safety of caterpillars. Rosemary has grown bigger than everything else. Lots of Echinacea; Dianthus persists.
Everything is covered now in a blanket of pine straw, as in the pic at left, from last week.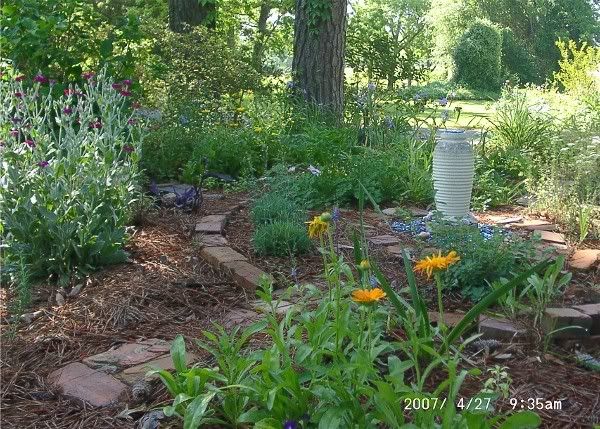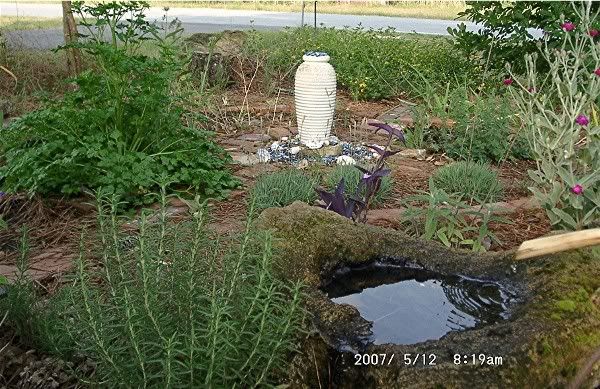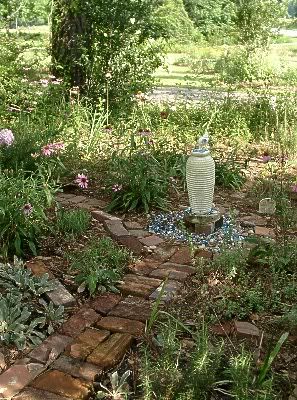 The 'faux fountain' is simply a lamp base set on a plinth made of a stepping stone. Blue glass stones represent water. At the corner of the area is the stone birdbath that is one of my favorites, a bit of bamboo disguises the old hose that drips into it from a nearby faucet. At one time the 'faux fountain' had a Murex sea shell set into the hole to represent bubbling water, but the dog discovered it. Some decorative items in the garden went into hiding until the dog matures. The pic at right is recent.
I tucked it into a space of 14x14' that has a little slope. A brick path divided it into four quadrants. and a brick circle further defined the quadrant areas. As with every garden, it has evolved over time. Now it begs renovation. I started on the paths last spring. Like every gardener, I have big plans for many of the paths, come spring.