I love to blog about native plants.
You likely read elsewhere that if you live in metro Chicago you can vote for the native plant of your choice of three native/ prairie plants in a poll for the most popular. Area residents will receive seeds of the winning plant. Read about it and vote (if you're in the Chicago area) here:
http://www.oneseedchicago.com/
It is interesting to me to see that Echinacea is listed as a plant no longer seen in gardens in Chicago. I thought it a native that everybody would grow, being a pollinator, attractive and long-lasting. I'm not trying to sway your vote, if you are a Chicago-area resident. Echinacea just happens to be the one I would vote for if the voting was nation-wide.
The other two plants in the poll are bee-balm and nodding onion. Bee-balm has its fans. I prefer to see it growing in the wild rather than in my garden. Nodding onion is not familiar to me. Perhaps others will blog about these two.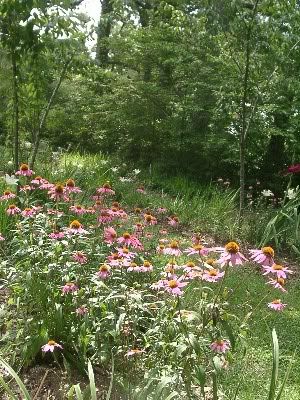 Echinacea in my garden in 2008, with a multitude of flying friends visiting.
After May, the butterflies move on to other nectar plants.
Easy from seed, my first Echinacea were from Ms. Billie's garden. She pulled up plants whose blooms had faded, telling me, "Here, put these in your garden and they will grow." I divided and planted them. Now I collect ripe seed heads, smooshing them into the soil where I want them to grow, leaving the rest for birds to eat.
If you're from Chicago, go vote at the above site. If not, beg an Echinacea seed head or two from a friend to start your own plants from seed.