Have you counted the Native Plants in your garden? Not an advocate of an all-native garden, I could not do without roses, for example. Nor do I restrict my azaleas to those natives that bloom after the colorful azaleas of the Orient that are part of the essence of place that signifies South Georgia along with winter's Camellias, also from the Orient.
False indigo in foreground and native azalea at upper right, Jones Lab last April.
Some native plants I never introduce into the garden. Festoons of Carolina jessamine adorn the trees along woods' edge in spring, but there isn't a spot for it in my garden. So far I have not found a suitable spot for Baccharis other than at woods' edge or field edges. Seeds of Native Carolina Cherry Laurel is frequently brought in by birds. It's a lovely bright green evergreen, growing to great heights. It makes a beautiful screen between our field and the neighbors just to the north.
Echinacea was a recent post:
Echinacea: One Seed Chicago
so I won't post echinacea again.
Stokesia at left, being visited by a Tiger Swallowtail. At right in the pic is blue eyed grass, our native Sisyrinchium. You can barely notice the tiny blue blooms at upper right. I found the blue eyed grass at the edge of a pasture. Not a real grass, it has segments like an iris and loves to be divided. Stokesia has been in this garden as long as I can remember. It will die out if not divided every few years.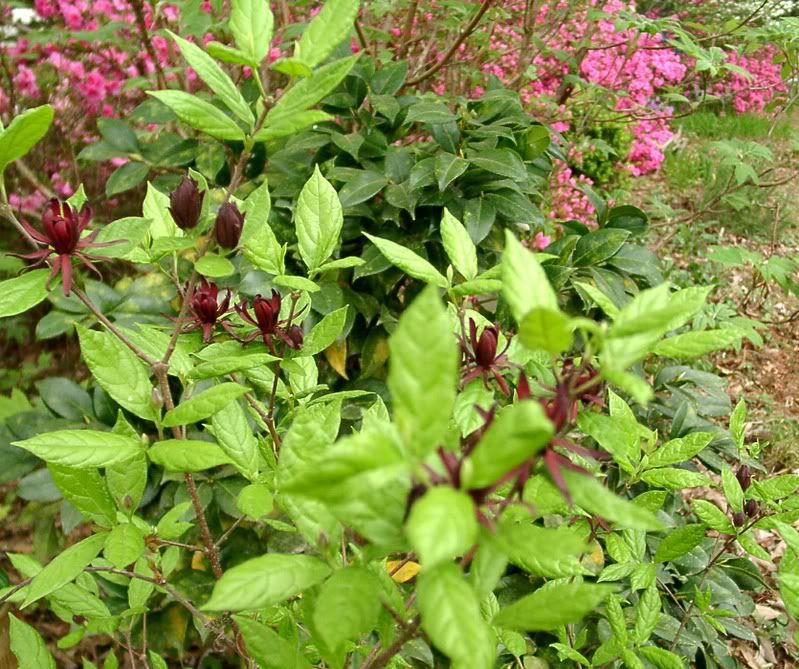 Calycanthus, our native sweetshrub has maroon flowers and bright green foliage. It is a suckering plant, so propagation is easy.
Sumac and Sassafras are two small native trees that add the brightest spots of fall color along with native Dogwoods. Sassafras blooms during the winter, little yellow blooms resembling Witch hazel.
Blueberry is a native, popular for fruit in these parts.
Where, oh where, is dear little Nellie?
Where, oh where, is dear little Nellie?
Where, oh where, is dear little Nellie?
Way down yonder in the pawpaw patch.
Picking up pawpaws, puttin' 'em in your pocket,
Picking up pawpaws, puttin' 'em in your pocket,
Picking up pawpaws, puttin' 'em in your pocket,
Way down yonder in the pawpaw patch.
(Traditional)
Asimina, our native paw-paw which grows in high mixed shade.
Paw-paw is the host plant for Zebra Swallowtail Butterflies.
Beautyberry
Callicarpa americana is known as beautyberry (spelled all together, not two words) or French mulberry, or American beautyberry. When speaking of beautyberry as a garden specimen, much is made of the purple fruits which appear in fall. The summer beauty is pale pink flowers that precede the berries and are attractive to butterflies.
Beautyberry often volunteers within its range, sometimes with such vigor as to be regarded as a weed species, but the rogue plants can be easily removed. Fall interest is the yellow-green foliage combined with the purple fruits. Other cultivars are C. bodinieri, C. dictoma, and C. japonica, about which I know nothing.
Invasives that I've been offered from the gardens of others include Popcorn Tree. Growing on the property are Chinaberry, Privet and Lonicera japonica, planted by birds. Brooklyn Botanic Garden has a great guide to native plants to use instead of less desirable invasives :
Native Alternantives to Invasive Plants
One plant that BBG mentions as an invasive, Vitex, has never reseeded in my garden and I have four large plants that were rooted cuttings. The callicarpa that they advocate as a substitute does seed about everywhere here. You may find others such as Japanese Spiraea listed as invasive that are well behaved in some gardens, not others.
What natives are you adding as you edit your gardens?
What non-native plants do you retain as indicators of a sense of place?