I'm convinced that bulbs of the genus Lilium have a secret life underground which we are not generally privileged to see. Why do lilies send up little oval green leaves off season? Why do the stems not always come straight up from where you were sure you planted the bulb? How does the bulb determine when it is time to divide into two bulbs? What are they doing under there in the dark, soft earth?
Dazzle, my favorite yellow LA lily.
In my garden, lilies bloom generally in the following order: Asiatics, Longiflorum-Asiatics, Orienpets, then Orientals and Trumpets. They bloom earlier than the bloom times given by growers and gardeners from farther north. The emerging shoots can be distinguished from each other. Asiatic lilies have smaller shoots. Oriental lilies look like rocket ships emerging, with the leaves tightly lapped toward the end. Trumpet lilies look somewhat like 'Cousin It' with a frill of thin leaves at the top of the shoot.
Longiflorum lilies are the Easter lilies sold around the holiday. In the garden, Longiflorums bloom in summer. I prefer to grow the Longiflorum/Asiatic hybrids, call LA lilies.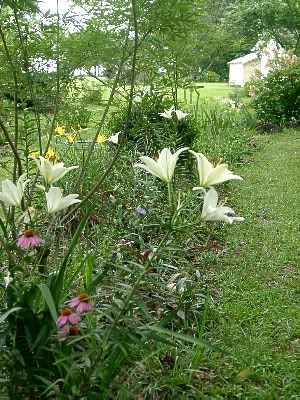 'Algarve' and 'Elodie were 2 of three pink lilies new to my garden last year. The third, a species lily, had a decidely orange hue and will be moved to a different location this spring.


This Orienpet is called "Orania" -- Derived from Greek ουρανιος (ouranios) meaning "heavenly". In Greek mythology Ourania was the goddess of astronomy and astrology. My Greek friend whose child has this name rolls the 'r' when she pronounces it: Orrrra knee uh.
'Orania' is my favorite Orienpet hybrid. Orienpets are crosses between Oriental and trumpet lilies. They tend to be huge fragrant flowers in a wide array of colors and color combinations.
'Stargazer' Oriental lily. According to some lists of flower meanings, pink stargazer lilies represent wealth and prosperity. They also are said to be a sign of aspiration. I aspire to more lilies, which I would consider a symbol of garden riches.
'Muscadet' is one of my favorite Oriental hybrids.
A 'Fair Tale Pink' daylily and a Regal Lily. Regals are a Trumpet lily.
Daylilies are not true lilies; hemerocallis grow from tuberous roots.
Regal lilies were my mother's favorite. They have the best fragrance.
'African Queen' trumpet lily has a heady fragrance.
A Calla Lily is not a lily at all, it's an Aroid.
This one was greenhouse grown, hence the early bloom date.
Tulips and Fritillaries are in the same family as Lilies, another of their secrets I recently learned.
I'm hoping that Janie will continue her posts on propagation in the garden by posting about propagating bulbs by slicing them into sections. Doesn't that sound scary? I generally take little bulblets off the underground stems of Asiatic and LA lilies, move the bigger Orientals and trumpets when they self-divide and sometimes take some of the outer scales with a bit of basal plate, from which to grow new plants.
I look forward to seeing new sprouts as soon as the weather warms. Sometimes sprouts show themselves before the last frost here and need a bit of mulch to protect the tender shoot else the bloom be damaged. Lilies are quite hardy, persisting to the coldest of zones, where they know not to let themselves be tricked by a sudden warm spell. I hope they are all under the mulch growing fatter bulbs and preparing wonderful stalks full of blossoms for summer bloom.