Diana of
Elephant's Eye
asked us to name our signature plant, a hard task in a large garden with several growing seasons. Spring comes early and lasts a while. Summer runs into fall and Autumn lasts until Christmas.
The plants that I brought with me when we moved here 15 years ago were 17 rooted Pink Ruffles azaleas and a handful of rooted hydrangeas. Already here were 2 ancient dogwoods and a handful of dogwood seedlings. I think dogwoods number 18 now, from 2 feet tall up. More seedlings have appeared, some I planted and some planted by birds.
The problem with the signature azaleas and dogwoods show in late March is that it lasts about two weeks, so we need more signatures to designate our gardens the other 24 weeks of the year. Dogwoods do have fall color, both leaves and berries. Azaleas are mostly nondescript evergreen background the rest of the year.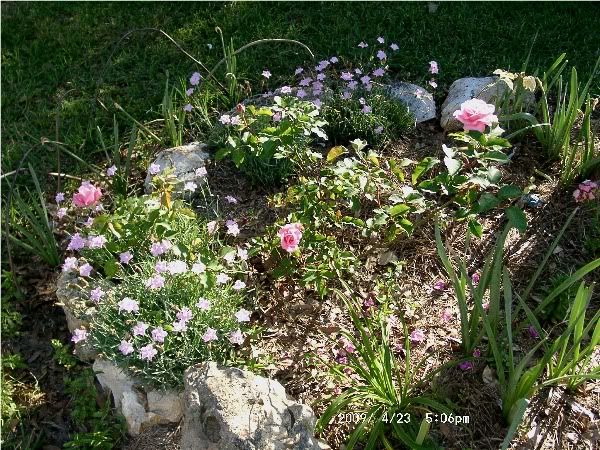 Dianthus are my fav plant that follows the earlier spring show. Sweet William Dianthus is easily spread by scattering seed. A single gallon of Bath's Pink Dianthus divided into multiple cuttings, scattered everywhere a pink flowered plant with glaucous foliage would be appropriate, spreading over stone edgings.
The mid-summer fav is Crape Myrtle. I have two shades of pink; more than a half dozen suckers came from around an old lavender one in one of the pastures.


White crape myrtles came as seedlings from the Colonel's Lady's garden. Only one seedling turned out to be the wrong color.
A purchased pot labeled 'salvia' turned out to be solid purple Salvia leucantha. Maybe that's my signature, it fits in everywhere in the garden. Attractive to butterflies, it blooms in fall and looks good until frost takes it out.
Another plant that gets spread around in many areas is Setcreasea, or Purple Heart. I saw Setcreasea as a border plant around daylilies beds in the next ccounty one summer and proceeded to spread Purple Heart everywhere.
Gingers are my choice to use instead of the Hostas that dislike our hot, humid summers. Many different gingers: Alpinia, both striped and solid; hedychium, another late summer bloomer; curcuma, and cardamon ginger. Except for curcuma and hedychium, there are no blossoms because our growing season isn't long enough. I grow the others for foliage.
Curcuma, or Hidden Ginger: Grumpy Gardener's Mama trims back her foliage. I tried it with good results to show off blossoms.
Begonias are another choice for shade instead of the water-guzzling impatiens that ask for water twice or more daily.
Bulbs, spring bulbs and summer bulbs, a large number: Daffodils, hyacinths, true lilies, lycoris, oxblood lilies, Calla lilies, and more.
It's like asking a mother to decide which of her children best represents the family. It takes the whole selection to make my
garden
.
An afterword: When I searched the term, signature plants, I found a different meaning. At one time, signature plants were those used to cure human ailments.
The Doctrine of Signatures was highly developed during the European Renaissance. This interest paralleled the widespread belief in an overall unity of Nature.
Many vernacular names of temperate plants tell us how plants were once used to cure human ailments. Such uses were fueled by fertile imaginations. In general, long-lived plants were used to lengthen a person's life, and plants with rough stems and leaves were believed effective to heal diseases that destroy the smoothness of the skin. Plants with yellow sap were cures for jaundice, and roots with jointed appearance were the antidote for scorpion bites. Flowers shaped like a butterfly became cures for insect bites.
Examples:
•liverwort = relieve liver trouble
•snakeroot = antidote for snake venom
•adder's tongue = cure for wounds and inflammation from snakebite
•lungwort = cure pulmonary diseases
•bloodroot = cure blood disorders; induce vomiting; laxative
•toothwort = relieve toothache
•gravelwort = dissolve stones in the urinary tract
•wormwood = expel intestinal parasites
•pilewort = cure hemorrhoids
•ginseng = "man essense," used as a general human panacea
•mandrake = promote sexual passion in females
•black-eye root = remove bruise discoloration
•maidenhair fern = cure for baldness
-- The Doctrine of Signatures, Professor Arthur C. Gibson, UCLA