Several visitors commented on Bloom Day how lucky to have a greenhouse. With DH's help, I turned my wish into a greenhouse. It isn't as cute as an improvisational carpentry shed would have been. The old windows I'd saved for years went with the scrap man because we just are not up to that kind of DIY building any more. Instead we bought a 10x12 Harbor Freight greenhouse made of aluminum with polycarbonate panels for the glazing, in 2007.
Begonias and pentas are among the stars that tend to bloom all season. They came from the summer garden, either dug and potted or as cuttings. There's a little bit of licorice plant, too.

The greenhouse came in a box, in a million pieces. I will spare the details of the assembly in the garage out of the wind and how the wind lifted it off the trailer when we hauled it around to set it in place. The directions are confusing. Reading every post of every person on Garden Web who ever assembled one was very enlightening. Most reinforced the basic GH in some way. Every base was different, but sturdy. Ours is fastened to t-posts driven into the ground. It stayed put in a windstorm that tore limbs off the cedar tree behind it.
Potting Bench
Interior and Walkway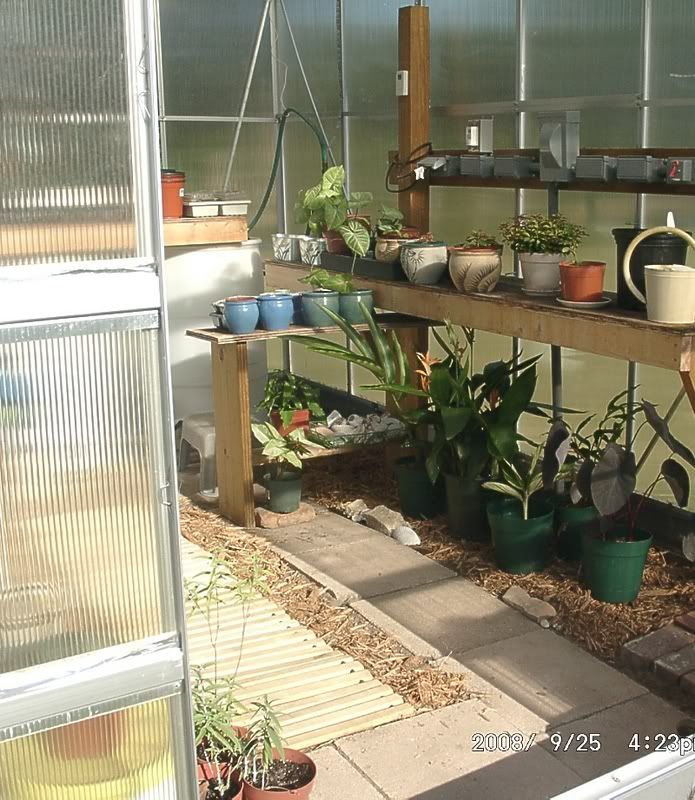 There is a base for the water barrels and potting bench and a walkway of concrete stepping stones with bricks to piece the irregular spaces. The rest of the floor has cypress mulch. I've been using seed pods as a decorative mulch lately as I clean seeds. I found little wood slat walkways made in Russia at an import store for the larger open spaces. They can be taken up to put transplants into the ground if needed.
epi tree pics, 2008 The epi tree is a curved dry cedar limb that supports plants with long dangling limbs like the night blooming Cereus. No epiphytes actually live on the 'tree' because the GH is empty during the summer. Potted epis and syngoniums spend the summer outside in shade.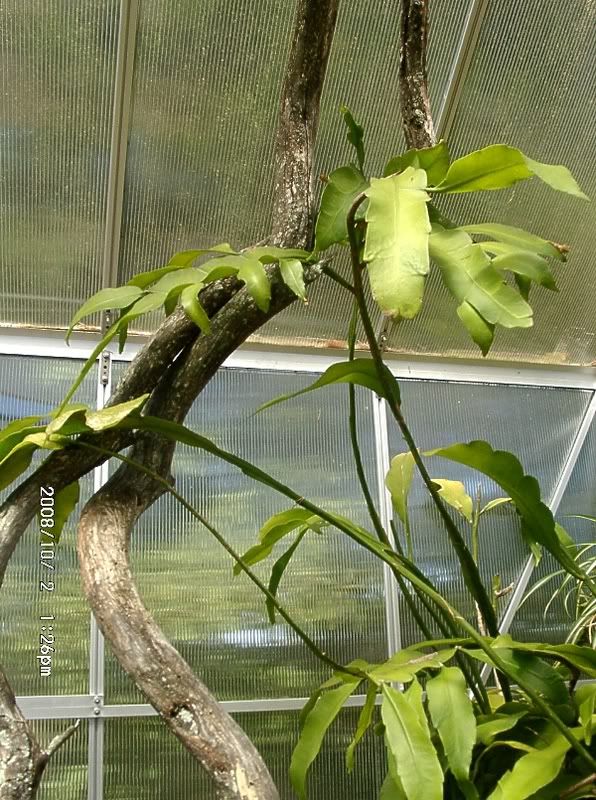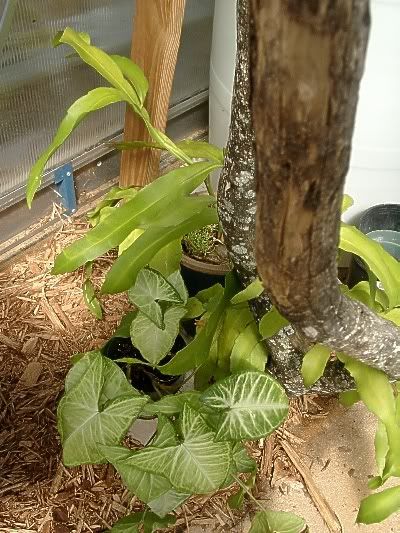 2009 photo: plants move in for the winter, before the Christmas Cactus bloomed.

The post about moving in is
HERE
. You read it before, I had forgotten what I said.
Best Azaleas for GH forcing
Clivia
Forcing hydrangea
Acalpha pendula
'Goodwin Creek Grey' lavender (put in 7" pot)
Made a note to Look for:
Dwarf Gardenia for GH
Rosemary standards 10" stem, 5" pot
Vowed to Take Cuttings:
Porterweeds -- long pieces, keep in water, root the tops in late winter in soil.
Pentas -- pot up and take cuttings as well.
Persian Shield for the color. Keeping pots of PS for winter, grow on through summer, bumping up.
Alternanthera -- cuttings in water are sufficient in winter.
Not sure if Licorice Plant is hardy, may need to pot some of it.
Salvias: Mexican Bush Sage and Pineapple Sage, lots of cuttings.
Need to root and pot up Pentas ahead of cold weather. Potted, well rooted plants will live over winter in the GH and be a good start in the garden, April 15. Only the Rose pentas returned in the garden in 2009.
Lemon Grass Too much room for too little gain, but one pot for Ikey to chew might be good.
Rosemary -- standards in 4" pots
Airplane plants
Begonias: some will already be potted. Worked well last year to pull out of urns and put in hanging basket containers.
Arrowhead vine (Syngonium) next to 'epi tree'
Plants of Black Pearl peppers -- this would be a good choice to start plants.
Black Magic colocasia -- dig pieces.
Porterweeds can be long pieces that grow in water until late winter, then cut off and root the tops.
Hedychiums are not evergreen. Can take pieces of Variegated Shell Gingers, Cardamon Gingers.
Keeping Heliconias and BOP in pots for the summer, can go inside for winter.
Tibouchina.
*Anthurium, bought July 10, 2009
*Areca palms, also July 10. Small.
*Red Emerald Philodendron, July 19, 2009, gallon pot or larger.
Amaryllis -- get some new bulbs to force.
Hyacinths -- force a few.
Need another bag of river stones, this time slightly larger stones.
Pineapple Sage, take cuttings in the fall. Need lots of these.
Lots of cuttings of Blue Porterweed, long stems in vases. Keep cutting off bottoms until Spring, then root in soil.
Cuttings of alternanthera can spend the wiinter in water.
Not sure how long Persian Shield will persist in winter.
--Sometimes I repeat myself. If I hear it enough times, I might do it.
Heat: Electric heaters, two small ones with thermostats set. Without heat, the inside will be the same temp as the outside by morning on freezing nights. The recent prolonged temps in the 20s F were not usual. This is zone 8b. Ordinarily we have freezing temps for a very brief period just before daybreak. The sun warms everything quickly.
Before I had the greenhouse, I kept the epiphyllums in the unheated laundry room with what cuttings I could squeeze in and I started hyacinths in the sink. I trundled seedlings in and out of the tool shed when the weather began to warm a little but there was still chance of frost. It's all fun.
There's a poll on the sidebar for seedlings and potted things, how you manage.
What would you do with a hobby greenhouse?