Hyacinths are among my favorite spring bulbs. They generally perform as well as daffodils do here. I force a few to give away and plant the rest directly in the ground after chilling for 12 weeks.
Many bloggers show their beginning bulbs planted in soil, or in vase with water. Once the forced bulbs are done, most toss the spent bulb. I advocate saving the bulb to plant in the garden as soon as possible.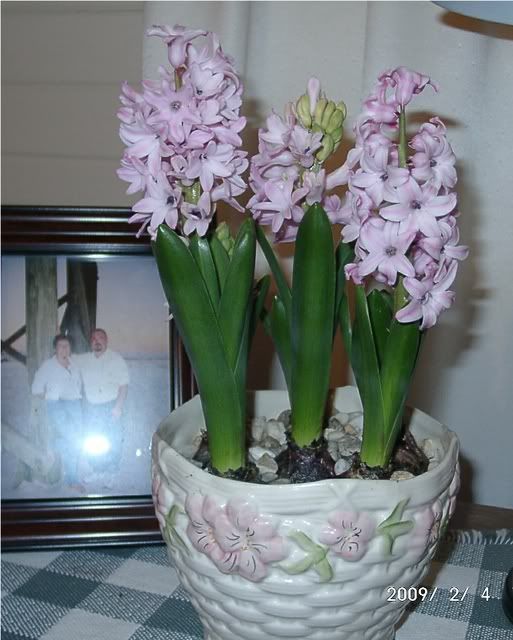 China Pink forced in water and stones, 2009
After these hyacinths bloomed, I cut each little floret off and left the green stem. I dug holes 6" deep and carefully sifted soil around the roots after I removed the small stones they were in for forcing in water. They settled into the ground with the stems buried about 2" and lightly watered.
China Pink 2/25/2010, the same bulbs from forcing, 2009
Next year these should be fuller with larger florets after a season to recover.
It seems wasteful to just toss the forced bulbs when they'll come back well.
Blue Delft, third year after planting in the ground. 2/25/2010.
These were never forced; a cultivar recommended for planting, not forcing.
The ones above and some and white forced this year so far are the only blooms in my garden.
More of my favorite hyacinths follow, from previous years.
I expect to see them again this year, most have buds except for the ones that bloom latest.
Gypsy Queen, one of my favs, very strong grower with an unusual color.
Pink Pearl is another good performer, started in the ground or forced and planted out to recover.
Some of these were forced, some directly planted. I can't remember which. They are forming buds.
Top Hit, the second year after planting.
Top Hit is one that I've never tried to force but I've planted more of them over the years.
They bloom a little later. I noticed buds have formed now where they came up.
Second year blooms are not as pretty as the first. Third year, they usually catch up.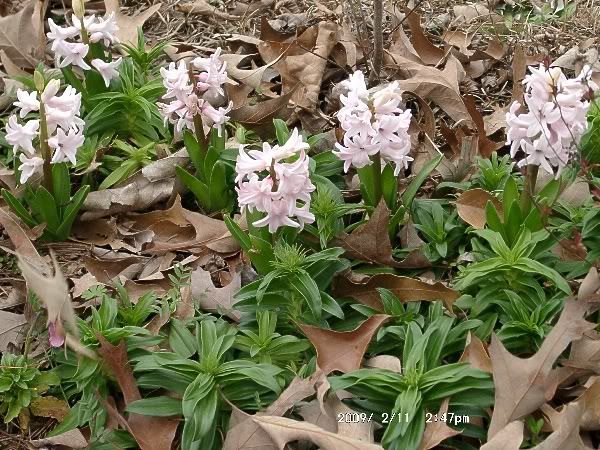 China Pink. I think 2009 was the second year for these, directly planted.
They have big fat buds now.
Blue Jacket, last to bloom and very strong.
These are just showing foliage now.
There are many information resources for forcing hyacinths available on the web. One of my favorite places to find information is
http://www.ces.ncsu.edu/depts/hort/hil/hil-8507.html
North Carolina State University Hort Department.
I read something yesterday In Helen Van Pelt Wilson's old book on Fragrance in the Garden that I had never realized. There are some hyacinths that are not pleasantly fragrant. Maybe they're like the paperwhites, some are unpleasant. That would explain why sometimes there are comments from people who think hyacinths are stinky. Maybe they just never met a really fragrant one.