I never heard of Bermuda Conehead until I was searching for more information about blooms on Persian Shield. According to MoBot, "Flowers appear in short cone-shaped inflorescences, thus giving rise to the less frequently used common name of Burmuda conehead. Genus name comes from the Greek words strobilos (cone) and anthos (flower). Synonymous with Strobilanthes dyeriana."
Persian Shield is a much more dignified common name, I think, bringing to mind the lovely colors of the leaves in summer gardens. The colors are faded and the leaves are small on potted Persian Shield after a winter inside. The flowers are not significant, but are a pleasant surprise when few other blossoms are appearing in late winter.
I looked back to see earlier posts about Persian Shield. My oversized alphabetical label cloud showed only one post for Persian Shield. When I thought to look for Strobilanthes, there were a dozen more. Then I looked for more pics in my online storage:
I've started cuttings of Licorice Plant to grow with Persian Shield.
A pot of saved lavender pentas will yield cuttings for the coming season.
The daylilies in this photo have dwarf purple blooms.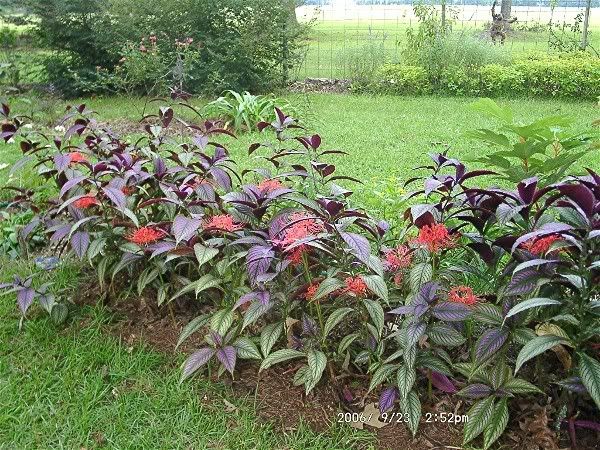 Gaudy combo: Persian Shield hides the bare stems of Lycoris, in September.
Strobilanthes dies to the ground here in winter. The Lycoris foliage is green all winter,
a good disguise for the dead stems. Below is a pic of a row of Lycoris foliage this week: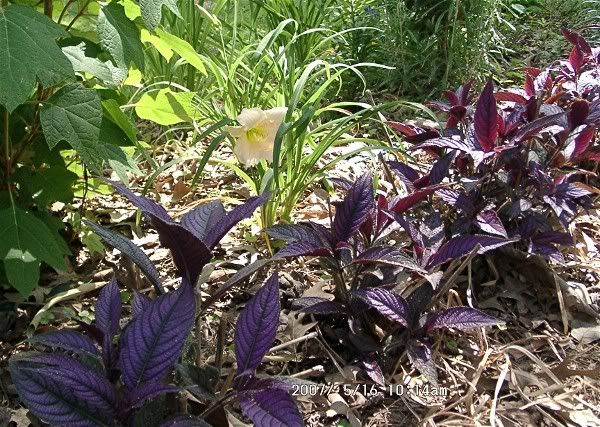 In previous years, Persian Shield has returned in Spring without fail.
The freezes this winter make me fearful about their fate this year.
The little cone shaped flowers are a winter novelty.
Persian Shield loves humidity. The leaves get crispy in low humidity.