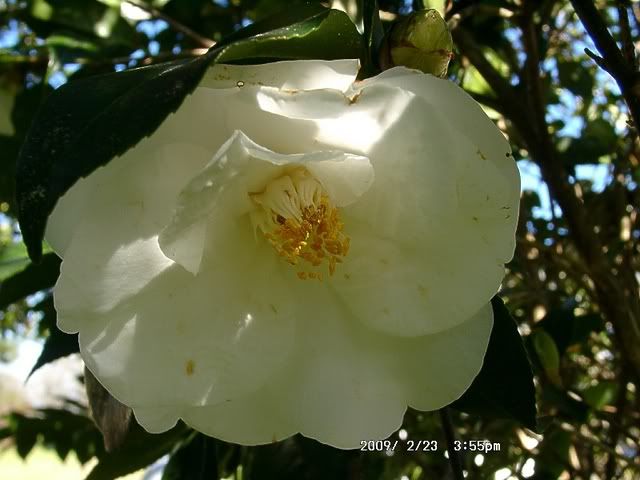 Marguerite was always present at every first night, .... and she invariably had three things with her on the ledge of her ground-floor box: her opera-glass, a bag of sweets, and a bouquet of camellias.
.... it was noticed both by her friends and by the habitues of the theatres to which she most often went. She was never seen with any flowers but camellias. At the florist's, Madame Barjon's, she had come to be called "the Lady of the Camellias," and the name stuck to her.
CAMILLE (LA DAME AUX CAMILIAS)
By Alexandre Dumas, fils
Cold weather has not been kind to the edges of white camellias in my garden this year, so I'm showing whites from previous years: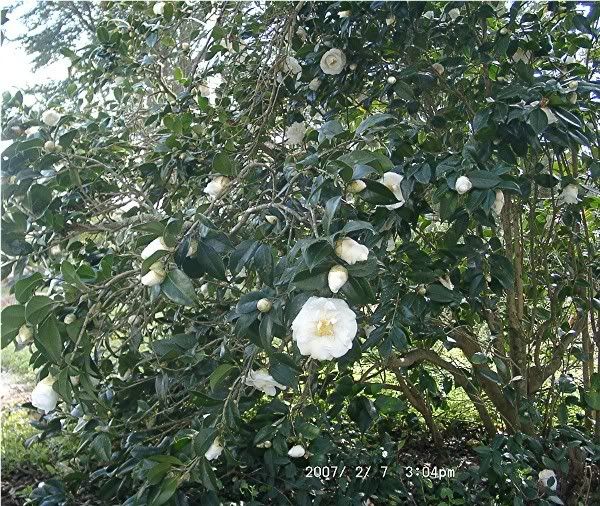 My fav red, 'Blood of China' from last year. They do not begin to bloom until well into spring, often dropping buds from heat in April. Lots of buds are waiting for the proper time to open.
What made the camellia so significant to the story of Camille was that it is practically scentless. Marguerite Gautier carried only white or red camellias, to signal her availability. She was dying of consumption, and the camellia was the only bloom which did not make her cough.
Greta Garbo and Robert Taylor in
Camille
death scene
LA TRAVIATA: --Maria Callas as Violetta Valerie (Camille).
These last 3 pics were taken on January 30.
Open buds are susceptible to frost; tight buds survive to bloom later.
The Side Bar Poll asks about flowers you consider as Funeral Flowers.
My mother thought White Mums to be the most appropriate, sometimes making exceptions of lavender mums for the funeral of very elderly ladies.
My niece sends White Roses.