The phone rang. A neighbor said, into my sleepy ear, that there was a suspicious vehicle just beyond our south driveway. He'd seen it stopped near two other houses down the road about three miles and now it appeared to be checking us out. Unable to find my slippers I padded to a window where I could see nothing but foliage in the early morning light. I opened the front door and listened. I heard a starter grinding. I went to report to DH. When I came back, I could still hear a starter turnng over. Finally it roared into life and an old Jeep SUV crept past the house, engine surging. A church was broken into five miles down the road this past weekend. We all get paranoid.
I finished pruning the roses today and hauled off the debris with Buffy's help. Naturally after I came inside, I looked back at last year's rose pics to assure myself that those bare sticks I left will become a delight, come May and June.
I planted the first of my GROW nasturtiums, rescued some lily bulbs that Buffy found and scattered, pruned dead sticks and grass tops from all over the garden, stood and stared, pruned some boxwoods, transplanted two rooted aucuba cuttings and two spent forced hyacinths, and surveyed the daffodils.
Little Gem and Sweetness are blooming together, two of the earliest. Pink Charm, Juanita and Ice Follies have fat buds. Tete a Tete is blooming in spots, has no buds yet in others. Tahiti is just coming out of the ground, both newly planted and established bulbs. There's a large cupped yellow daffodil starting to open in the front. I don't remember whether those are named bulbs or from a mix.
The same daffodils were already blooming February 23, 2009. Extended cold made them later.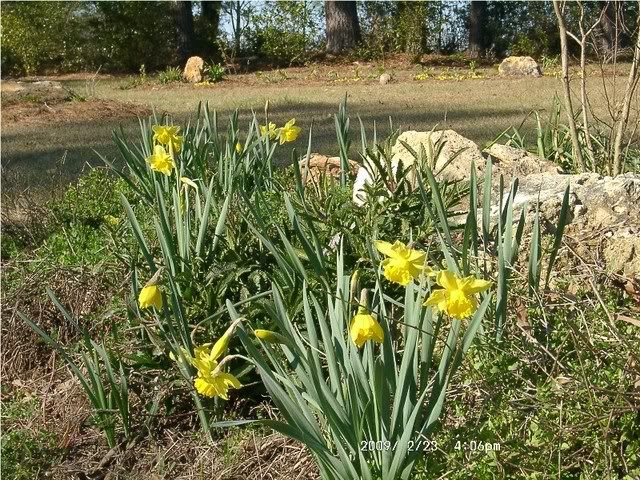 Rain is predicted for tomorrow. After that, freezing temps at night again. Spring is slow coming, despite the daffodils. Weeds are coming up. Seedlings of larkspur and poppies are in evidence. I can hardly wait.