I can't get my hoses coordinated. I have extensions for the in-ground water faucets, some with Y connectors and one manifold that can feed four hoses. I repaired all the hoses that Buffy chewed, save one that I just place the leak near something that needs water.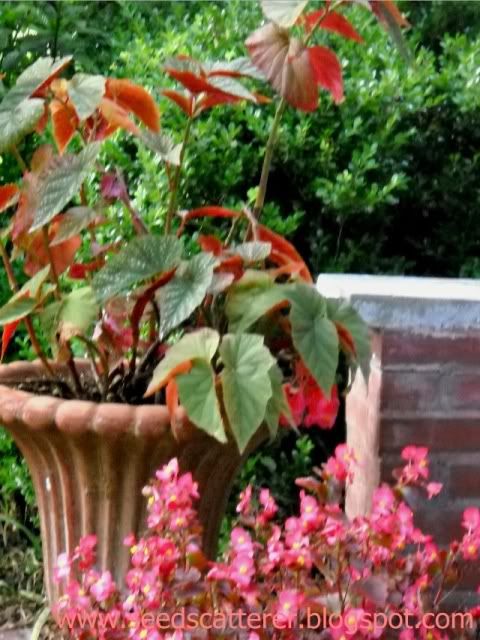 I'm not fond of having containers because they need watering so often.
Begonias are good about waiting in case I forget them.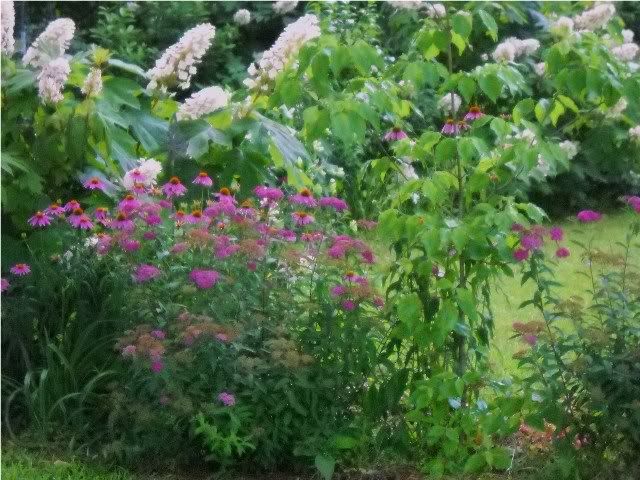 After I made this pic, I deadheaded some of the Spireaea.
Oakleafs are already starting to turn pinkish in the heat.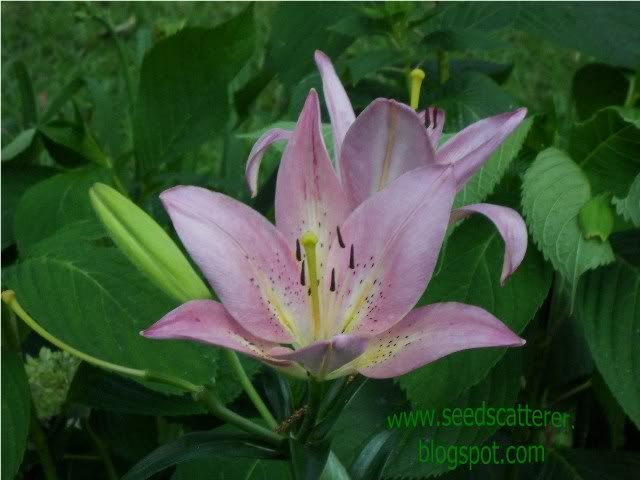 I don't remember the name of this lily, but it remains a fav.
American Painted Lady butterflies are plentiful.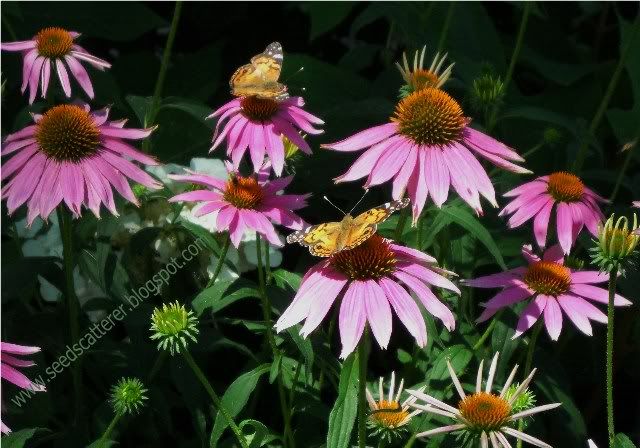 While I was watering, I saw an obviously newly hatched
Spicebush Swallowtail; I could have touched it we were so near.
I saw a Tiger Swallowtail, too. It was more cautious.
While I'm watering I don't take a camera.
I'm experimenting with watermarking pics. I don't mind the occasional download, but I'm tracking some folks who are scraping. I put up some fuzzy pics a few days ago. They took them. Today I found two sites that are scraping whole blog posts. I didn't see any of mine.
There is a certain style that they seek out and they seem to prefer Blogger posts. I saw posts that I recognized from Fertilizer Friday. Another I just happened to remember from all the way back on January because it was about a garden in Florida. The scraper was obviously not from Florida nor from the USA nor Canada. The site is filled with advertising and posts from all over North America.
One way to determine if you are being scraped is to type some of your blog post titles in a search box. Scroll through the first couple of pages of results to see if your title shows up someplace besides your own blog. You may recognize yourself in sites that have your blog in their blogroll. Look for sites that have your post title, but not your blog name. Scrapers remove your blog name and give you no credit for your work while they collect money from advertisers.
Flowers and text from the garden of Nell Jean at
http://www.seedscatterer.blogspot.com/
in the hot, humid depths of Southwest Georgia USA where Magnolia fragrance floats on the breeze, now joined by Gardenias. Flowers that wilted during the day perk up at night in humidity so thick it feels like a warm blanket. Join us in a glass of iced Ruby Tea, dark and barely sweet.