In some areas of the country, spring bulbs are just coming into bloom. Here they are a very pleasant memory. While that memory lingers I like to plan next year's additions in the cool of the house during the heat of the day when it is too hot to work outside. Orders placed now insure availability. Some vendors are already selling out of the most popular bulbs.
Anemone coronaria
. We plant these in the fall. Winter heat zones 3-6 plant them in the spring.
Corydalis
of the Papaveraceae family.
Corydalis blooming with yellow daffodils.
Daffodils
. You know that poem? I love it,
a host of golden daffodils
. It fails to mention the fragrance though. What a treat to stand in a patch of Sweeness or near some clumps of Thalia. I made a daffodils page. Click on the button 'Daffodils, Daffodils' above for a sampling.
Too many are never enough when it comes to daffodils. I plant the common ones; fancy hybrids are for flower shows. Daffodils are the only flowers that I know where the inexpensive ones (cheaper in price from the same vendor, not cheap bulbs) are the best buy. They are less dear because they are plentiful.
About mixed daffodil mixtures: they don't all bloom together. If you want a swath of color buy one kind and plant en mass. If you just want a few daffodils go ahead and get a bag of mixed and deadhead the earlier bloomers when they fade.
I plant bulbs using a post hole digger and plant more than one in a hole. Sometimes I use a mattock to make little trenches like this:
/ / / / /
so they don't march in a single row. In the fall, planting 2 dozen seems like such a chore. In the spring I wish I'd planted 200.
Hermodactylus tuberosa
. I'm always surprised when these bloom and wonder why I don't buy more. They're hard to photograph and need pale companions.
Snake's Head Iris Hermodactylus tuberosa
Hippeastrum
is used for forcing for Christmas or late winter color indoors. I plant out my forced bulbs and they bloom in following springs. My peach colored Amaryllis from 2 Christmases ago now in a flower bed outside has a bud! Amaryllis almost make up for the tulips that I'm not going to plant.
In colder climates Hippeastrum can be kept potted, given a rest, given water and fertilizer, and bloom again. Mr. Loran used to bring them back to bloom every year. 'Appleblossom' was the prettiest.
Peach Amaryllis from 2009 'Exotica'
Hyacinthoides
. I bought mixed Bluebells. I ended up with Pinkbells, the only color that persists. I forgot to take pics this spring but they did show up.
Hyacinthus.
My favorite of the spring bulbs. If I had to choose between having only one spring bulb, it might be hyacinths instead of daffodils. Butterflies agree with me.
Lilium
. Lilies can be planted in spring or fall. Fall planting in the south gives the bulbs an opportunity to either develop strong roots before spring or be eaten by voles. I try to plant enough to share, just in case. Lilies here have fat buds now.
Muscari
. A river of muscari is not in my future. A tiny trickle is the best I can muster as most of them disappear. I tried all the suggested muscari as well as Bellevalia pycnantha. If you can grow a river, do so and please let me know when they bloom.
Narcissus
. All daffodils are Narcissus. However the Narcissus to which we in the south refer are the Tazetta 'paperwhites' often forced for Christmas. My Mama always tucked a bowl of narcissus into the fruit closet to bring out at just the right time for blossoms to open for Christmas or at least in the dreary cold days of January when nothing bloomed outside except January honeysuckle
Lonicera fragrantissima.
In warm climates paperwhites are planted outside after forcing. A period of rest and they bloom in late winter outside in later years.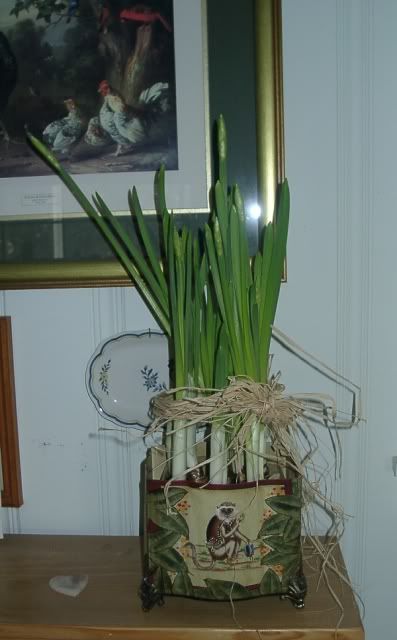 Paperwhites in a container for Christmas, 2009
I'll add a few Paperwhites, Hyacinths and Hippeastrum to my fall order to force. A hyacinth bulb in a coffee mug of stones makes a great little gift that lasts into the worst of winter on a windowsill.
Tulips.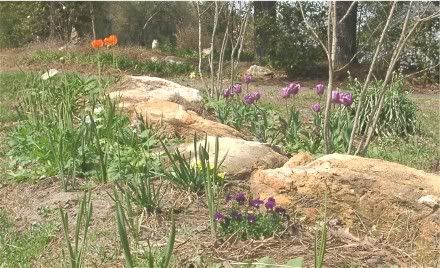 Tulips and Iceland poppies 2007 when I still believed I could grow tulips.
I've about talked myself out of a big order of tulips. Instead I will scatter seeds of Iceland poppies in the fall to bloom at the time tulips would be expected here. Iceland poppies bloom for weeks; deadheaded they continue to rebloom until the weather gets warm. I'm trying not to look at blogs that feature tulips blooming but I can't help myself.
I've listed some of my favorites but not all the spring bulbs commonly planted, like snowdrops and crocus and others frequently seen on blogs. Which are your favorites?