Spring blooming bulbs have yellowing foliage here, pleasant memories of blue, yellow and white blossoms remain as we wait for hyacinth and narcissus foliage to steal away.
Agapanthus
-- blooms Mid-June here. I can hardly wait.
Some of my summer blooming bulbs like Lycoris and Oxblood Lilies also have yellowing foliage. Naked blooms will appear in mid to late summer. Others like Agapanthus and crinums have green foliage with blossoms a month or two away. Not every plant that I call a 'bulb' here is an actual bulb. Some are corms. Some are tubers. Some are rhizomes. All have energy storage capacity for the next season's bloom. I love that bulbs are perennial and most are tough.
Bulbine
, shown here the tangerine blooming behind a poppy.
Caladium
for color in the shade.
Cannas
and
Colocasia
. A popular bulb vendor has already sold
out of the yellow striped canna. Mine have foliage about 8 inches tall.
Clivia
-- easier to grow than an orchid and more unusual than an Christmas cactus, according to the Chicago Botanic Garden. I mean to try this bulb soon.
Crinum
-- String Lily, one of a number of Crinums that grow here.
String Lily foliage is appearing from stolons in the birdbath bed.
Crocosmia
-- a thug. Butterflies love it. Its grassy foliage is
swallowing other plants and I pull it like grass.
Dahlia
-- Sometimes Dahlias bloom in my garden, but they are never really happy, so I stopped terrorizing them by asking them to grow in hot and humid.
Dietes
-- African Iris. I noticed new growth today.
Elephant's Ears -- See
Colocasia
Eremurus
-- another bulb I intend to buy soon.
Freesias
-- I've brought these to bloom but they never persist. They like cool but not freezing.
Natal lily --
Gladiolus natali.
This is a tough plant. Grows here at an old home site.
Gladioli
-- spikes of foliage from previous plantings dot the garden now. I never expect more than first year bloom from new corms. Any subsequent year's blooms are a pleasant surprise. Regular and minature glads and various species glads corms are available.
Hippeastrum
-- Amaryllis in my garden are sullen. All refused to bloom, while the forced bulbs that I gave my non-gardening neighbor two and three Christmases ago are happily blooming beside her porch near a water faucet.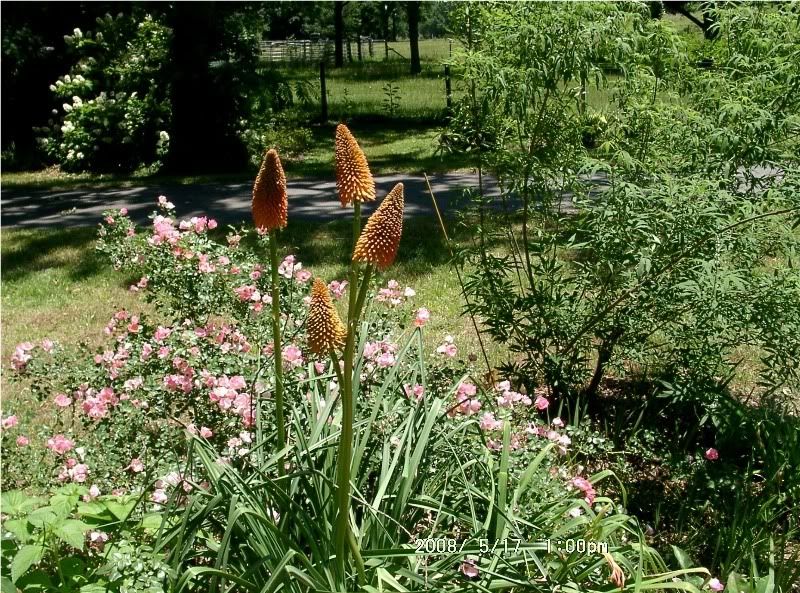 Kniphofia
Lilium
-- asiatic hybrids, oriental hybrids, L. Regale and Longiforum and its hybrids are all beautiful. I can't choose a favorite except to say my favorite is always the one currently blooming. Buds have formed and I hope for early blooms. Some of the older lilies that I planted have disappeared, including the lovely Trumpet, 'African Queen.' Some that dwindled I potted up to try to encourage their return.
The Easter Lilies we see this week are L. Longiflorum, forced for Easter bloom. Planted in the garden, they will bloom in June next year. A better choice for garden use are Longiflorum/Asiatic hybrids, with the best qualities of both parents.
Lycoris
radiata -- these give spectacular late summer bloom.
Lycoris squamigera bloom mid-summer and are beautifully pink.
Rhodophiala
(Oxblood lily) -- another late summer beauty.
Sternbergia
-"
In the bulb-beds the bright yellow Sternbergia lutea is in flower. At first sight it looks something like a Crocus of unusually firm and solid substance; but it is an Amaryllis, and its pure and even yellow colouring is quite unlike that of any of the Crocuses. The numerous upright leaves are thick, deep green, and glossy. It flowers rather shyly in our poor soil, even in well-made beds, doing much better in chalky ground
. - Gertrude Jekyll
When my Sterbergia from Barbara in Texas failed to bloom after one season in shade, I moved it this spring to a sunny location and gave it a little lime, hopeful of fall bloom this year.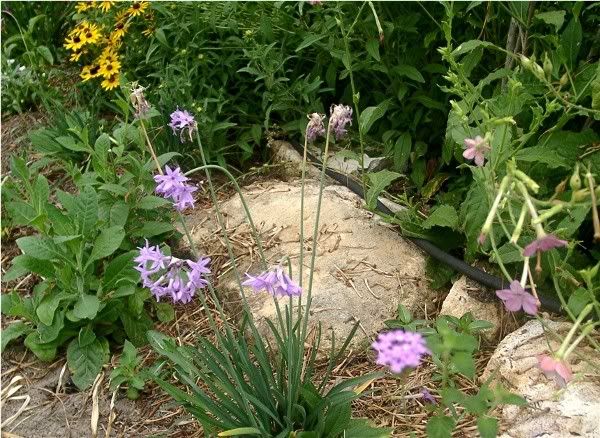 Society Garlic
Tulbaghia --
Like the Bulbinellas, these plants with aloe-like foliage do not last through many winters here.
Zantedeschia
-- I'm hoping for calla lilies in bloom again very soon. Their foliage is good.
I love the history of Calla lilies, known as pig lilies in their native country. Here they die back in winter and again when the weather is unbearably hot, blooming in cool seasons.
This is not an exhaustive list. I've already thought of four more. How about you?
Bulbs are available in nurseries and from online vendors generally shipping through May.
All pics are my own from previous years' bloom.