Seeing a
poppy
in your
dream
symbolizes fertility, and abundance. Alternatively, the
dream
suggests that you let go of the past and look toward the future, according to the Dream Moods Dictionary.
No mention was made of daydreaming about huge beds of poppies in the garden.
Some years I've planted Iceland poppies to bloom in mid-winter here as they are from a cold climate where our February seems like spring. They come in ethereal shades of yellows, pinks, whites and pale orange and have the most fragile appearing petals of all. Fern-like foliage distinguishes them from other poppies.
Iceland Poppy
Early blooming here are Breadseed poppies
Papaver somniferum
. I've only had pink and orange and what I call Maroon poppies that are actually red and purple.
Peony poppy. California poppies behind.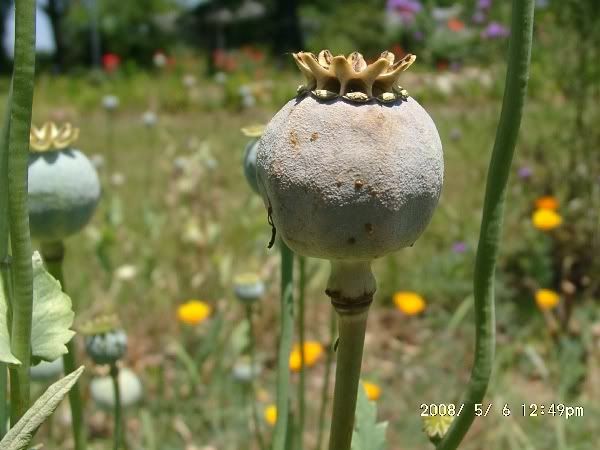 Pods from which poppyseeds for bread come.
Some just use them like a little pepper shaker to
scatter the seeds when they are ripe. I wait for fall.
Along the way California poppies
Eschscholzia californica
commence blooming with their bright orange flowers waving in the wind. These are actual poppies, members of the family Papaver. They last until the sun gets really hot and the humidity gets unbearable here and then they start to wane. A scattering few late poppies may survive in shady spots to bloom the following winter. California poppies have long slender seed pods that pop open and scatter their seeds. I put them in a paper bag tightly closed until they pop.
My California Poppies reseed into the lawn where
we just mow around them until they're done.
It is interesting to know that naturalists in California discourage scattering commercial Eschscholzia seed in natural areas there. You can read why
Here.
The last to bloom are corn poppies
Papaver Rhoeas
. Sometimes my red is more orange than scarlet. These are the poppies mentioned in the poem that starts, "In Flanders' fields the Poppies grow."
Selected strains of Papaver rhoeas in various colors are sold as Shirley poppies.
Shirley poppy Papaver rhoeas
Mama scattered Shirley poppy seeds over her tulip beds.
I plant Shirley poppies where I wish tulips could grow.
There is excitement in seeing a poppy bud split open to reveal the silk-like petals.
Poppies play well with others.

Please remind me to scatter poppy seeds by late fall over a well-prepared bed.